SGTreport – The Corporate Propaganda Antidote – Silver, Gold, Truth, Liberty, & Freedom
07/31/2017 06:00 AM
Dave Janda's Operation Freedom – Sunday, July 30, 2017 – Bill Holter
by Dave Janda, Dave Janda:
Manipulation of financial markets, Benghazi, New World Order Syndicate, Obama Care, Free Market Health Reform, Putin, The Ukraine, ISIS, Syria, The Constitution, Natural resources, Reserve currency, Corruption, gold, silver Global Elite, International Banking Cabal, debt, Federal Reserve, Too Big To Fail Banks, Crony Capitalism, Debt Ceiling, Financial implosion, Recession, [...]

07/31/2017 12:00 AM
The ULTIMATE CRISIS ACTOR
from Friend of Yahweh:
07/30/2017 11:00 PM
Words and Deeds
by James Howard Kunstler, Kunstler:
I know I'm not the first to point out how Anthony Scaramucci, President Trump's brand new Communications Director, is suddenly and eerily carrying on like his namesake, the arch-rascal / buffoon of the Old World Commedia dell'Arte in lashing out at his fellow scamps and bozos in the clown [...]

The Daily Reckoning
The Corbett Report
03/31/2020 09:36 AM
What's Up With The Italian Mortality Rate? – Questions For Corbett #058
| | | |
| --- | --- | --- |
| [audio mp3="http://www.corbettreport.com/mp3/qfc058-coronadeaths.mp3"][/audio] | Tom from Scotland asks about the mortality rate of Covid-19, and why it is reportedly so much higher in Italy. James answers with an in-depth look at the numbers, how they're being reported, and what's being left out from the equation. | |
03/30/2020 10:36 AM
The Totally Spontaneous Health Worker Balcony Applause Phenomenon – #PropagandaWatch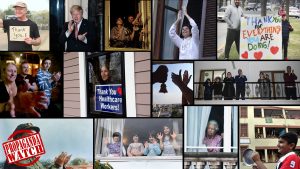 Are you thanking the valiant soldiers in the war on the invisible enemy? Yes? Good. But are your thanking them in the right way? At the appropriate time? Using the state-sanctioned hashtag? No? Then you are a thoughtcriminal! Join James for this week's edition of #PropagandaWatch as we peel back the curtain on The Totally Spontaneous Health Worker Balcony Applause Phenomenon, and how the propagandists will use this programming in the long run.
03/29/2020 11:21 AM
The Things You CANNOT Say About Coronavirus