SGTreport – The Corporate Propaganda Antidote – Silver, Gold, Truth, Liberty, & Freedom
07/31/2017 06:00 AM
Dave Janda's Operation Freedom – Sunday, July 30, 2017 – Bill Holter
by Dave Janda, Dave Janda:
Manipulation of financial markets, Benghazi, New World Order Syndicate, Obama Care, Free Market Health Reform, Putin, The Ukraine, ISIS, Syria, The Constitution, Natural resources, Reserve currency, Corruption, gold, silver Global Elite, International Banking Cabal, debt, Federal Reserve, Too Big To Fail Banks, Crony Capitalism, Debt Ceiling, Financial implosion, Recession, [...]

07/31/2017 12:00 AM
The ULTIMATE CRISIS ACTOR
from Friend of Yahweh:
07/30/2017 11:00 PM
Words and Deeds
by James Howard Kunstler, Kunstler:
I know I'm not the first to point out how Anthony Scaramucci, President Trump's brand new Communications Director, is suddenly and eerily carrying on like his namesake, the arch-rascal / buffoon of the Old World Commedia dell'Arte in lashing out at his fellow scamps and bozos in the clown [...]

The Daily Reckoning
The Corbett Report
02/28/2020 09:31 AM
Contagion – Film, Literature and the New World Order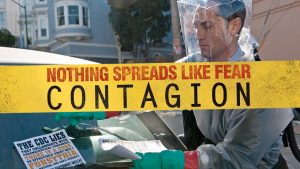 FROM SEPTEMBER 2014: This month on Film, Literature and the New World Order, Tim Kilkenny of RevelationsRadioNews joins us to discuss the 2011 propaganda film, "Contagion." We examine "Participant Media," the media venture of billionaire Jeff Skoll that produces "social action campaigns" for each of its 55 films and seeks to shape public debate in five main target areas, including pandemic disease. In this episode, James and Tim dissect the propaganda techniques and message of the film and point out how the film seeks to shape the opinions of the audience.
02/28/2020 04:03 AM
Ban Anti-vaxx, Ban Climate, Ban Foreign Interference – New World Next Week
This week on the New World Next Week: The UK government mulls banning vaccine truth; UNESCO argues for banning climate truth; and the CIA/WaPo want to ban foreign interference in the bogus 2020 selection.
02/27/2020 09:57 AM
Interview 1517 – New World Next Week with James Evan Pilato
| | |
| --- | --- |
| [audio mp3="http://www.corbettreport.com/mp3/2020-02-27_James_Evan_Pilato.mp3"][/audio] | This week on the New World Next Week: The UK government mulls banning vaccine truth; UNESCO argues for banning climate truth; and the CIA/WaPo want to ban foreign interference in the bogus 2020 selection. |